Screw Chip Conveyor Customized
Usually within a tube, to move liquid or granular materials
Keywords:Protection Cover Chip Conveyor
A screw conveyor or auger conveyor is ideal for limited space applications, small chips, various types of material, and wet or dry applications. This conveyor type is usually the first step to removing chips from the machining area, and typically feeds into another system for discharge.
Applications
Aluminum / Brass / Steel
Small / broken chips
Options
Screw with or without shaft
Limitations
Not ideal / designed for parts and bushy chips from turning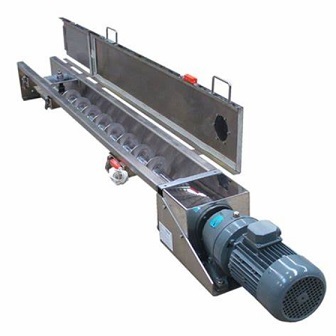 ---
Zhongxing Machine Tool Accessory Co., Ltd Is A Manufacturer Of Custom-made Industrial Bellows And Other Machine Tool Accessories In Shandong, China.
We have focused on bellows cover manufacturing many years and have much experience on different types of protection cover besides bellows cover, like telescopic cover, sewn cover, apron cover etc.
We are professional on customized chip conveyor, include band chip conveyor, screw chip conveyor and magnetic chip conveyor. The sizes of customized conveyor just depend on your requirement.
Provide all sizes drag chain to choose, from small size to huge size, bridge type or full closed type, plastic drag chains or steel drag chains. Please mail to us, don't hesitate, you are welcome.
Online Message
Our staff will contact you within 24 hours (working days)​