Full Enclosed Type Plastic Cable Carrier
enhance nylon plastic Need order please send to mail address below
Keywords:Protection Cover Chip Conveyor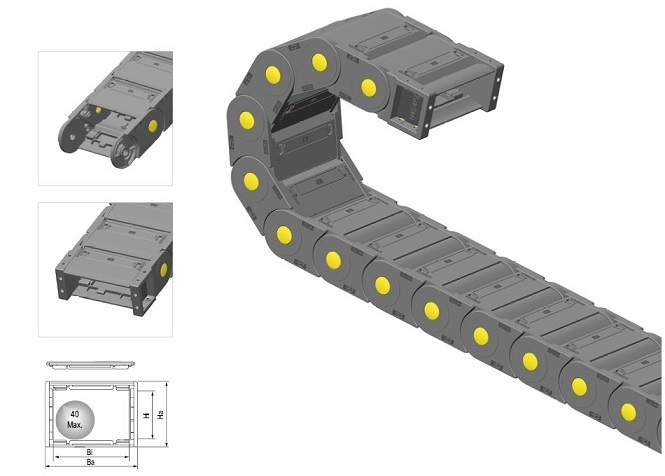 Feature:
The ledge of the cable chain is able to open to install, inspect and replace cables.

The cable chan can be mounted separator and cross separator to effective ly protect cables

The cable chain can be mounted wear resistant plate to protect chain from friction in long distance.

The cable chain can be expanded by connecting two rows or more rows in paralled.

The cable chain is suitable for a diameter of 40mm or less of cable.
Specifications:
Series No.

Hi

Bi

Ha

Ba

Stype

Bending Radius(mm)

H45F.1.60S

45

60

65

90

Full Enclosed

100,125,150,200,300

H45F.1.75S

45

75

65

105

H45F.1.90S

45

90

65

120

H45F.1.100S

45

100

65

130

H45F.1.130S

45

130

65

160

H45F.1.150S

45

150

65

180

H45F.1.175S

45

175

65

205

H45F.1.200S

45

200

65

230
---
Zhongxing Machine Tool Accessory Co., Ltd Is A Manufacturer Of Custom-made Industrial Bellows And Other Machine Tool Accessories In Shandong, China.
We have focused on bellows cover manufacturing many years and have much experience on different types of protection cover besides bellows cover, like telescopic cover, sewn cover, apron cover etc.
We are professional on customized chip conveyor, include band chip conveyor, screw chip conveyor and magnetic chip conveyor. The sizes of customized conveyor just depend on your requirement.
Provide all sizes drag chain to choose, from small size to huge size, bridge type or full closed type, plastic drag chains or steel drag chains. Please mail to us, don't hesitate, you are welcome.
Online Message
Our staff will contact you within 24 hours (working days)​